From MSN Entertainment:


Richie Sambora gives us the scoop as Bon Jovi announces major new Because We Can tour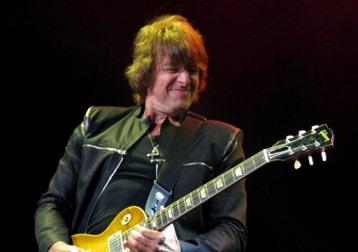 The new tour, Because We Can, is groundbreaking in its concept. They've tiered the ticket prices to seven different levels, partly to thwart the scalpers and partly to give fans a break. While there are some high-end VIP packages available, thousands of tickets are priced at $19.50. Tickets for 1987's "Slippery When Wet" tour were $16.50 -- which is $32.15 in today's dollars when adjusted for inflation. So it's technically cheaper to see them now than it was to see them back then.
Sambora -- whom [Jon] Bon Jovi describes as "my right-hand man. He's Dean to my Frank" -- took a few minutes from his schedule to talk about the new tour.
MSN: How was your live Q&A with fans from the theater? I'm told that had never been done before.
Sambora: "It's the first time anything like that ever happened. We interacted with our fans, which we do a lot. We had a Q&A with the fans both on Twitter feed and our website. Questions were coming in from everywhere, Australia, South America, Europe. It was really cool. We've got a lot of new music to put out there, so that's what we're doing."
So those people overseas must have been up in the middle of the night to submit the questions.
"Thank God for our fans. I was just in Europe -- I just put out a solo album 'Aftermath of the Lowdown,' and I was in Europe for a solo tour. They sold out in presale! There were people who went to every show. There were people there from China, for God's sake! It's crazy."
Well you're on Twitter all the time, it seems.
"Absolutely! At least a couple of times a day. It's definitely me, man. I enjoy it. I like to hear people's opinions. Sometimes I'll just have a question of the day and put it up there because I'm curious about what people think."
You've been a band who are willing to experiment, whether it's your residencies in large stadiums or your new tour where you've gone with tickets priced as low as $19.50.
"It's a band philosophy that came from a long, long time ago, even before we had hit records. We said 'Let's play everywhere. Live, live, live. Let's tour everywhere.' We didn't have a hit record, but we played in all these countries supporting other bands or playing a club tour. What happened was the garden was seeded. The only thing missing was a hit record. Then 'Slippery' hit, and we had a bunch of hit records (laughs). It exploded worldwide. We've always taken a global stance on making music and taking the tour on the road. When the grunge era came in, in the early '90s we went out and broke 20 new markets. Our sales really didn't suffer that much, and we were able to remain ourselves artistically."
Where does that work ethic come from? When you're not touring, you're all still working.
"It's really important when you're a band that stays together all this time, that everybody does have their individual efforts that they can be an individual with. That's very, very important stuff. Lucky for us we all support each other's efforts, whatever it may be. Anytime you do something different, you bring back a whole new knowledge to the band. It's like it's brand-new again. It's a good learning process and it also freshens the relationship. A band is very much like a marriage. If you limit yourself in that relationship … that doesn't work. Here, everybody gets a chance to do their own things."
That could be stifling if you're a band like the Beatles or the Eagles back in the '70s when there were little or no side projects -- the band was your full-time job.
"I'd be playing music no matter what. Whether I was successful or not, I'd still be playing a club somewhere or sitting in my room playing. I'd have been doing this anyway in some form. When it's in your blood there's no choice but to go out and try to be successful."
Your pricing on the tour is very innovative. You're playing for cheaper prices than you did in '87.
"We want people to come see us, man! And you have to be flexible to the world economy. That's very important. People have less and less money to spend on entertainment, so you have to be flexible. We've been flexible for many years. Even through natural disasters. We'd be going to the Midwest when they had those big floods in the '90s. We dropped our ticket prices, we had food drives, we donated to the Red Cross and stuff like that. I just did the same thing on my solo tour. I played in Hollywood and gave all the profits -- and matched the profits -- to the Red Cross. You gotta do things like that."
Were you or other members of the band impacted by Hurricane Sandy?
"Yep. David actually lost a house. It's gone. It's gone. My mother had to come live with me. Her house wasn't gone, but the lower level of her house had a lot of water damage. It was unlivable. It definitely impacted us."
How do you have the stamina for this much touring?
"Once you get a mammoth excursion like this up and going … our last tour was 18 ½ months and 52 countries. No telling what this one is going to be. The only thing I can say, again, is even in our younger years, we liked to break barriers, go to new places. We're looking for countries we've never played before or rarely played. I think South Africa is on the list. Prague. Croatia. Places like that we haven't played that much. It's going to be at least a year, and obviously a lot of dates in America. Canada was so good to us last time. We did stadiums, then five Air Canada Centers, all that stuff. It was a big tour, man. We're doing Europe, Australia, Japan, South America. We've got a lot of work ahead."
And you're doing more solo work as the house band on "Craig Ferguson" all next week?
"When you do a solo album, you get to tell your stories. People get a chance to relate to the stories. We're all connected, and music is the most connective and evocative language in the world. I've seen it all around the world. It's going to be an interesting week on 'Craig Ferguson.' It's funny, I was having a meeting over at CBS about placing my music in TV shows. They said, 'What show do you want to be on?' and I said I wanted to be on Craig Ferguson, man, because I just dig him. I have for many years. They said 'No problem. Done.' I said 'How about I be on a week?' They loved the idea. As well as being the musical guest, I'm going to be the house band and a regular guest. It's gonna be Richie Sambora week on 'Craig Ferguson'! (laughs). I'm excited, the band's excited. It's going to be crazy. I kinda vamped on what John Lennon did on the Mike Douglas Show when I was a little kid. He was on for the whole week. That's where that came from."
~ Hath